English Page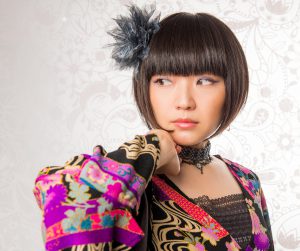 [Mika Kobayashi Profile]
Japanese singer, songwriter and musician, born in Hiroshima prefecture.
Mika Kobayashi is a famous singer, pianist, and songwriter. She is a very active artist who has performed in many places in Japan, in Tokyo in particular, and overseas, mostly in Europe.
She earned a great reputation as a vocalist and she participated in many soundtracks, such as the ones below:
Drama: NHK Continuous TV Novel "Mare" "Medical Dragon 3", etc.
Anime: "Kabaneri of Iron Castle", "Giant of Advance(Attack on Titan)", "Gundam UC", "Aldonoa Zero", etc.
CM: UCC full throttle
Game: "FINAL FANTASY XI" "Xenoblade Cross", etc.
Through all the years she has been working as a freelancer, she learnt how difficult this life and career can be. However, this has never scared her. On the contrary, she stays her course and is pursuing in this direction with her own label that she named "Miccabose".
She chose a thorny path, and she will not give up.
[Mika Kobayashi, Biography]
Mika Kobayashi started to learn classical piano as a hobby during her childhood, and did her first show when she was in 5th grade, in front of the whole school.
Later, in high school, she joined a band and her love for music and singing made her want to become a singer.
She moved to Tokyo when she became 18, where she wrote her first musical composition and had her first experience as a songwriter. During this period, she immersed herself in an amazing dancing environment, which allowed her to become a singer able to perform naturally with back dancers.
At 22 years old, she won the Grand Prix at a singing audition gathering more than 1,000 people. She was then offered many new opportunities and was asked by many professionals of the music industry to compose new kinds of music works. She could not believe what was happening to her.
After many ups and downs and adventures, she eventually found her own musical style and mastered her singing and piano playing skills. Her career really took off after she turned 25.
However, she never stopped challenging herself, and thinking about original works that only she could make. This is why she made her first play "Drama x Music" that involved performers and an actress on stage, and that allowed her to make the best use of her artistic sensitivity through which she aims to touch the heart of everybody.
Later, in Italy, a country known for its great artistic sense and history, as well as for its unforgiving audience that would leave a show if not entertained, she presented a play named "Spinning Wheel" in which an actress would play as a doll. The show pleased the spectators and it ended with a standing ovation. This made her realize that her art could touch people even outside of Japan, and even if they could not understand the language.
Since then, every time she releases a new album or a new album concept, it gets a great reception and fans are looking forward to it.
In addition, her sword fighting shows in collaboration with Kengishu Kamui, such as "Samurai Sword Artist" (a tribute to the Japanese art of the sword) that has been played in Japan for many years, and "Samurai Spirit" that is being performed abroad every year, are both very successful.
These shows have been held in Poland at the "Blue Note Jazz's Hall of Fame" and in Russia at the Hermitage Museum, the 3rd biggest museum in the world. They are also planned to be performed in many other countries in the future.
Finally, the acclaimed "Uta Katana Sekai" show will make a comeback in Japan after a 7 year break, starring Mika Kobayashi and Kengishu Kamui.
Furthermore, Mika Kobayashi is also a pop culture idol since she has been the voice of many popular Japanese anime songs, which is why she has been invited in many Japanese pop culture events and concerts all over the world. Her experience and skills as a singer and songwriter, as well as in dance and drama have proved very useful and helped her make great performances.
Mika Kobayashi does not want to stop there and always wants to try new experiences. This is why she has started new projects with a film maker as well as a photographer with whom she wants to combine different artistic genres.
Schedule (Overseas)
Discography
Movie
SNS